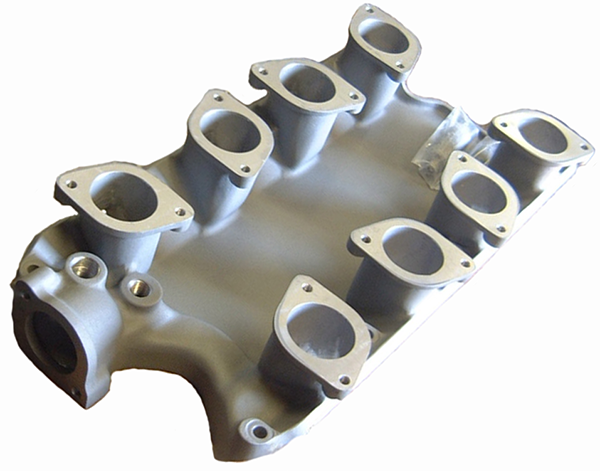 This intake does not have our logo printed on it.
Sold Out.
---
351 C Intake for single 4V
We have one in stock for sale at $610.00
Please call us at 704 583 2888 to place an order.
---
429/460 Weber intake. This has the angle cut at 8 Deg. We have one in stock.
Please call for more information, 704 583 2888.
---
FE big block Intake Manifolds
Single 4V Intake
This classic dual plane FE medium Riser intake provides great power and a classic look.


This intake does not have our logo printed on it.
We also offer this intake with larger ports for
the Cobra Jet 428 heads and without the heat riser.
The breather tube and some special allen bolts are included with these intakes. We have one in stock for sale at $875.00.00
The Cobra Jet is offered at $895.00
Please call us at 704 583 2888 to place an order.

---

FE 2 x 4 V Intake with hm logo This classic dual plane FE intake provides great power and a classic look.
Please call us at 704 583 2888 to check stock before ordering these intakes.


We have sold out of these

The Medium Riser port cast with hm logo is $990.00

---

FE 2 x 4 V Intake with C7ZX 9425-A part number This classic dual plane FE intake provides great power and a classic look.
Please call us at 704 583 2888 to check stock before ordering these intakes.


Very limited number of these intakes on hand.

Priced at $950.00. see the options below

FE 2 x 4 V Intake Blue Thunder standard intake. Please call to see if these are in stock 704 583 2888 This classic dual plane FE intake provides great power and a classic look.
This is the standard FE 2x4V intake.
Your price is $920.00.

Please call 704 583 2888 if you require a Cobra Jet intake.

Fuel log for 2 X 4V FE intakes

Throttle linkage for 2 X 4V FE intakes

---

Weber intakes for the FE big blocks

Machined in straight or angle cut design
4 x 2 V Intake

This intake does not have our logo printed on it.

The Straight design is $920.00 and the angle cut design is $950.00
These are out of stock


---

Y Block 292 & 312 intakes


We are out of these.

---

---

---

Click here if you would like to go back to the home page.

.





---




---

Hazardous Material Warning
WARNING WARNING
Some products offered on this web site may contain chemicals known to the State of California to cause cancer and reproductive harm.
Air filters, assembly oil, Heat Shields, decals, gaskets and other items shown may also contain other chemicals known to the State of California to cause cancer.
Wash hands after handling. For more information, visit www.P65warnings.ca.gov.

---


No Paypal account? NO Problem! You do NOT have to sign up for Paypal to order online. You can pay through Paypal using your credit card or debit card.


© 1997 - 2019 Holman Moody and Holman Automotive
Shop Address: Holman Automotive Inc.,
9119 Forsyth Park Drive, Charlotte, NC 28273

---

, , are
Registered trademarks of Holman & Moody. Inc.

---

Questions or Orders, call (704)583-2888 or
Contact Us via Email
Fax number (704)583-2890