Holman & Moody can transform your 2013-2018 Mustang.
We can develop a new Super Mustang just the way you want it.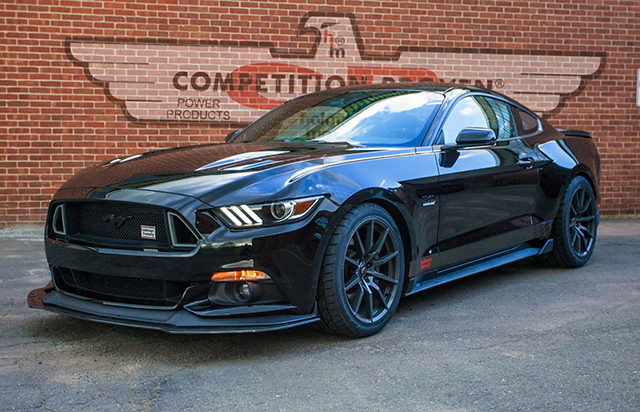 You can call us at (704)-583-2888 to learn more about these special Mustangs!
---
Depending on the base Mustang used in the build, your Holman & Moody Performance Mustang could have the features listed below:
Specifications:
- 5.0 liter 4 valve Ti-VCT V8
- Color optional
- Ford Performance Parts horsepower upgrade
- 3.73:1 limited slip differential
- Track Pack electronics
- SVT adjustable struts/shocks
- Progressive lowering springs
- Stainless steel tubular headers
- Ford Performance Parts sport mufflers
- Ford Performance Parts stainless steel X-pipe
- High-flow K&N/Ford Performance Parts air filter
- Uprated radiator for extra cooling
- Oil cooler
- hmPerformance fully adjustable front and rear splined sway bars
- 19 inch custom wheels designed and manufactured specifically for this car
Optional Equipment Available:
- Custom Holman & Moody embroidered Recaro seats
- Ford Performance Parts rear seat delete kit
- Side exhaust outlet kit
- Super chargers and other engine kits
Additional Features:
- Fully adjustable suspension allowing adjustments for road race, rally, autocross or commute without changing any components. This ease of adjustment gives the ability to corner balance the TdF Mustang to accommodate passengers and driver or cargo.
- Hand held ProCal OBD2 calibration tool for reprogramming PCM or reading codes.
- Improved exhaust note and engine breathing.
- Commemorative body stripe and badging.
- Holman & Moody embroidered carpeting.
- Customized Holman & Moody TdF Mustang serial number plate.
- Commemorative Tour de France wall plaque.
- Complimentary one-year membership in the SVT Owners Association.
- Exclusive access to tech support and forums, including access to designers and engineers.
A number of clients have inquired about having the TdF package installed on their Mustangs. We can install the handling package, wheels, Recaro seats, and other performance options on any 2013-14 Mustang.
Only Mustangs with all of the correct options can be built as a TdF.
---

Some restrictions may apply. Please contact us for more details.

Click here if you would like to go back to the home page.